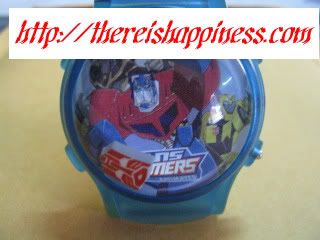 Kids love Transformers so do I, when I was a kid I keep my eyes on the TV more than anything.
As I told you about the
Transformers Watch
that my sis got for Sean, this is the one!
Later we are going out again as hubby need to head to the bank for bank in car loan. Other than that, I need to buy banana for Sean as this afternoon he cried to have one. I got the feeling that this week is gonna be busy for everyone!
If you wonder where you can get this watch, head to the Ampang Tesco! It was my first time there and I plan to go again but depend on hubby's mood. He hates driving far away, but I don't see he complains about driving back hometown.